Before you create an Ordering Permission, make sure that you have created a Group to associate with that permission.
To create a new group, go to the "Employees & Groups" tab and click "Groups". Then select "Add New Group", name it, and click "Save".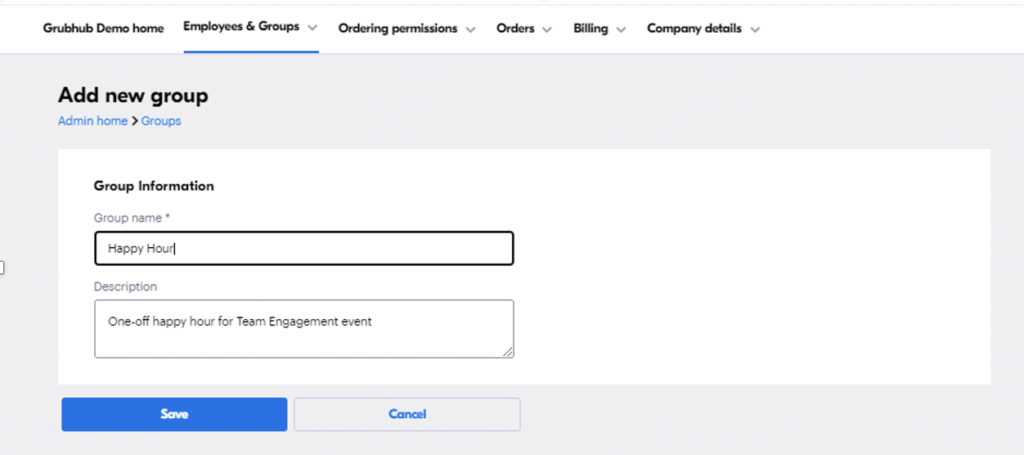 Once you have created your new group you can then assign employees to that group.
If the employees you wish to add already exist on your account, navigate to the"Employee Management" tab located at the top of the screen. From here, under the "Active Employees" list, check the box next to all of the employees that you wish to be a part of the group.
Click "Email Employees" as you must send the email notification to your selected employees so they can log into the site.
If you wish to add employees that are not yet on your corporate account, you may add employees individually (learn more here) or you can perform a bulk upload (see step 5 of both Uploading employees in bulk articles under "Admin Portal".
Now you can create your Ordering Permissions.
Account admins have control over ordering periods through the "Ordering Permissions" tab. 
From here, you can:
Create meal permissions based on specific delivery windows (daily vs weekly) and give access to designated employee groups.
Determine how long the delivery window will remain in effect (ex.. 1 day vs 4 weeks).
To create a new ordering permission, click the "Ordering Permissions" tab (found on the Group Administration page) and click "Add New Permission".
First, you must name the permission. The permission name is what people will see when they access the budget to order so we suggest including the name of the event or company to make it easy for users to identify their correct budget.
You will then indicate if you want the budget to run hourly or weekly.
Hourly budgets are best for one-day events or ongoing budgets on specific days of the week
Weekly budgets are best for a one-time budget that spans multiple weeks, or ongoing weekly budgets
If you are hosting a virtual happy hour or meeting, you should select "Hours" and then enter the hours that you want the budget to run- the hours you choose dictate the delivery window. You must specify the start date of the meal permission. Please note that you are also able to select a date in the future.
In addition, if you want to create a recurring budget, keep the Repeats* button selected (it will be blue), and then select the days AFTER the start date that you would like the budget to reoccur. If you do not want the budget to recur, deselect Repeats*.
Next you will need to determine the location restrictions for the budget. To ensure that users can order to their home, select "Any Location".
Under "Order Types", Regular and Catering will automatically be checked; you can leave that section as is.
You will also have the option to prohibit alcohol and nonfood (i.e. grocery) items; simply check the box next to the item to ensure it is prohibited. Otherwise, people will be able to use their budget to order the item if it remains unselected.
Under "Budget Display", you will want to make sure that "Show budget" is selected so users will see how much they have to spend when they log into Grubhub.com.
Lastly, you have the option to require, make optional, or not require any sort of expense code/comment fields at checkout.
Once you have completed the above steps, select "Add Permission". After the permission is saved, you will then tie the group (or groups) to it and provide the group with an amount that they will be able to order with.
To tie a group to the permission you've just created, scroll down once you've added the permission and you will see your groups listed. To tie the budget and its permissions to a group, select the box next to the group name and add a budget in the space under the column "Assigned Budget per Employee". Please note that you are able to select multiple groups at a time.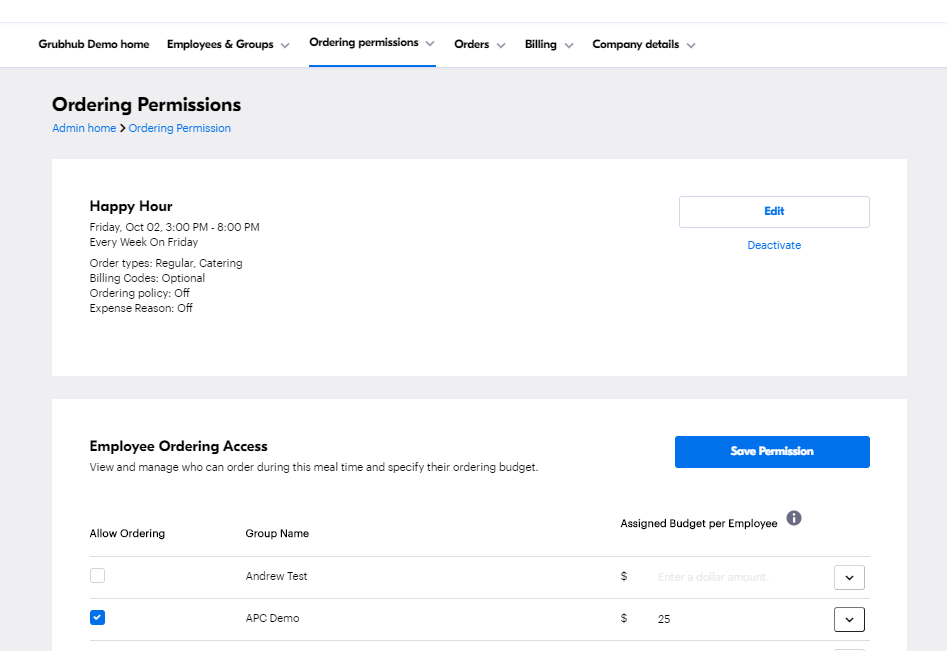 Once you have selected all your groups, hit "Save Permission".